Research Topics
WP

Contents

Available public deliverables 22.3.2012


Lead organisation*

WP1

Design and application



STX

Finland


Task 1.1

Development of basic design of passenger ships

Task 1.2

Analysis of the real flooding effects on design



D1.1a, D1.1b

D1.2

STX, MW

STX


WP2

Flooding Progression Modelling




AALTO



Task 2.1

Experiments with leaking and collapsing structures

Task 2.2

Numerical modeling and criteria for leaking and collapsing structures

Task 2.3

Experimental studies on pressure losses

Task 2.4

Computational studies & RANSE CFD

Task 2.5

Model tests for cabin areas

Task 2.6

Sensitivity of simulation model



D2.1a, D2.1b


D2.2a, D2.2b


D2.3

D2.4a, D2.4b

D2.5b



D2.6



CTO


MEC, Napa&STX

AALTO

CNRS, CTO

MARIN

AALTO


WP3

Flooding Simulation and Measurement Onboard




NAPA



Task 3.1

Development of flood sensors data interpreter

Task 3.2

Impact of ship dynamics

Task 3.3

Design of flood sensor systems



D3.1

D3.2



D3.3



NAPA

AALTO

NAPA


WP4

Stochastic ship response modelling




SSRC



Task 4.1

Benchmark data on time to capsize, ttc

Task 4.2

Test/develop analytical time to capsize model

Task 4.3

Test/develop numerical time to capsize model

Task 4.4

Test/develop hybrid time to capsize model

Task 4.5

Establish uncertainty bound on ttc models



D4.1a, D4.1b, D4.1c

D4.2

D4.3

D4.4

D4.5

SSPA

SSRC

NTUA

SSRC

SSRC


WP5

Rescue process modelling




BV



Task 5.1

Benchmark data on mustering/abandonment/rescue

Task 5.2

Test/develop mustering (M) model

Task 5.3

Test/develop abandonment (A) model

Task 5.4

Test/develop rescue (R) model

Task 5.5

Establish uncertainty bounds on M-A-R models



D5.1

D5.2

D5.3

D5.4

D5.5

BV

SSRC

BV

BV

SSRC


WP6

Standard for decision making in crises




SSRC



Task 6.1

Develop loss function

Task 6.2

Develop likelihood function




D6.1





D6.2



SSRC

SSRC


WP7

Demonstration




NTUA



Task 7.1

Benchmark data on casualty mitigation cases

Task 7.2

Demonstration of a casualty mitigation standard



Task 7.3

Demonstration for use as a design standard



D7.1

D7.1
D7.2a
D7.2b

D7.3

NTUA

BMT
BMT
NAPA

NTUA

AALTO is responsible of administrative and overall technical coordination of the project FLOODSTAND, but the technical coordination for the Work Packages is further divided to AALTO/NAPA (for WP1-WP3) and to SSRC (for WP4-WP7). This division originates from the background of project FLOODSTAND as a merge of two project proposals: FloodControl and Istand.
Project management structure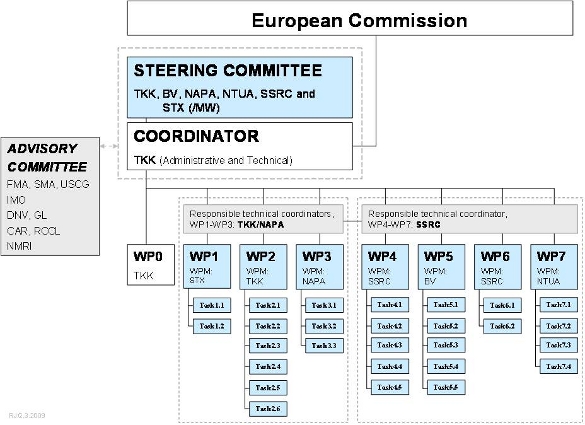 Consortium
Note! The FLOODSTAND Consortium members' acronyms, full names and country are: AALTO: Aalto-korkeakoulusäätiö (= operating as Aalto University), Finland, STX: STX Finland Ltd (Finland), CNRS: Centre National de la Recherche Scientifique, France, CTO: Centrum Techniki Okretowej Spolka Akcyjna, Poland, DNV: Det Norske Veritas AS, Norway, BMT: BMT Group Limited, UK, MARIN: Stichting Maritiem Research Instituut Nederland, NL, MEC: MEC Insenerilahendused, EST, MW, MEYER WERFT GmbH, Germany, NAPA: Napa Ltd, Finland, SSPA: SSPA Sweden AB, Sweden, RTR: Rosemount Tank Radar Ab, Sweden, NTUA: National Technical University of Athens - Ship Design Laboratory, Greece, BV: Bureau Veritas – Registre International de Classification de Navires et d Aeronefs SA, France, SaS: Safety At Sea Limited, UK, MCA: Maritime and Coastguard Agency, UK, SSRC: University of Strathclyde, UK. The project is based on the work of the whole consortium.





This page is maintained by Webmaster
Last update 10.04.2012
URL: http://floodstand.aalto.fi/Info/index.html